Disclaimer: The views and opinions expressed by outside panelists during this webinar do not necessarily represent the official views or opinions of the Center for Sustainable Energy.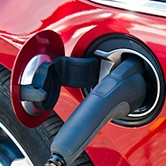 California has set goals to make all new residential construction ZNE by 2020 and all new and 50% of existing commercial buildings ZNE by 2030. The need for EV charging infrastructure is growing rapidly with the EV market. It is important for stakeholders to understand the implications of increased energy demands for EV transportation and how such loads will impact ZNE goals.
This webinar covers charging basics, EV charging station (EVCS) installation, and codes and permitting considerations. We also discuss how EVs will impact ZNE building energy use and present regional case studies that illustrate ways to overcome common barriers to EVCS installation.
This webinar kicks off the ZNE webinar series for 2016 and builds off the ZNE Roadmap for Local Governments, which provides a collection of best practices, current efforts and policy recommendations that local jurisdictions can implement to support and drive the ZNE market. You can view the Roadmap and supporting webinars from 2015 at this URL: http://energycenter.org/zne
The roadmap and webinars are provided by CSE and funded by the San Diego Regional Energy Partnership, which includes the City of San Diego, County of San Diego, City of Chula Vista, San Diego Association of Governments, Port of San Diego and San Diego Gas & Electric®.
For more information, email Erin Malcolm-Brandt or call (510) 500-5599.
August 17, 2016 10:00 AM through 11:30 AM