The inaugural Clean Energy Financing Advisory Council (CEFAC) gathering in San Diego was a successful launch of the 12-part series of events and webinars scheduled for 2016. Energy contractors, representatives of financial institutions, utilities, local government staff, real estate professionals and consultants joined together to learn about valuable information and resources and enjoy lively networking. Energy Upgrade California's® mascot Bear made an appearance to salute the audience's contributions toward saving energy and other resources.
Speaker Summary
Megan Campbell, Vice President, Opinion Dynamics
Campbell gave an overview of the supply and demand for energy efficiency financing products including the lending volume to date, characteristics of each product, contractor's support and perspective on financing, and the customer demand for energy-related upgrades and financing. She manages the statewide impact evaluation of California's first ratepayer-funded energy efficiency financing programs and recently completed a baseline market characterization of the California residential energy efficiency financing market.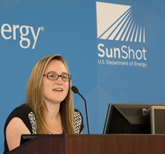 "2014 CA Residential Energy Efficiency Financing Product (EEFP) Snapshot" Takeaways
81% of homeowners making energy upgrades used conventional financing (credit cards, retailers, contractor financing)

PACE dominated the EEFP market with 90% of these transactions

85% of energy contractors do not promote financing

Barriers to EEFPs: low awareness, high upfront cost, high interest rates

Opportunities for EEFPs: continued demand for energy upgrades and financing, EEFPs can increase affordability
The CA Residential Financing Baseline Market Study is now publicly available at: http://www.energydataweb.com under the titles, "PY 2014 FINANCE RESIDENTIAL MARKET BASELINE STUDY REPORT VOLUME I", and "PY 2014 FINANCE RESIDENTIAL MARKET BASELINE STUDY REPORT VOLUME II".
David M. Cohen, Manager of Programs and Partnerships, Energy Upgrade California
Cohen covered the tools and resources recently launched on the Go Green Financing website, along with an introduction to the "State of Saving" campaign. He is currently managing the implementation of statewide financial initiatives designed to increase the uptake of financing for energy efficiency and demand response projects in the single-family residential, multifamily, small business and medium-to-large nonresidential sectors.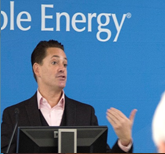 "Introduction to Go Green Financing" Takeaways
Statewide financing intends to overcome barriers (cash-flow, financial institution risks) and increase communications, awareness, and simplicity for Californians

Utilize strategic partners (contractors, IOU's, FI's, Regional Energy Networks, Real Estate professionals, and other stakeholders) to spread the message and engage audiences.

Go Green Financing offers financing-finder and decision making assistance to find best financing products

Contractor training and co-op marketing program overview
Want to learn more about clean energy financing opportunities for your local government?
Contact Ryan Carney at ryan.carney@energycenter.org
Additional Resources
February 16, 2016 8:30 AM through 10:00 AM