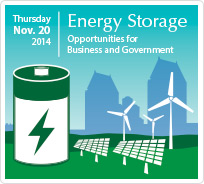 The promising outlook of cost reductions in energy storage technologies and rebate opportunities are driving more businesses and governments to consider harnessing the power of storing electricity for onsite consumption.
Join us for a half-day workshop and panel discussion with industry experts on advances in energy storage for nonresidential applications.
November 20, 2014 | 8:00 a.m. to 1:30 p.m.
SDG&E Energy Innovation Center
4760 Clairemont Mesa Blvd. San Diego, CA 92117
Who should attend?
Business leaders and government decision-makers who want to learn about the economic benefits of energy storage
San Diego County case studies highlighting
Demand charge mitigation
Power quality and reliability
Backup power and stability
Local government and zero net energy (ZNE) goals
Integrating renewable energy with storage
Breakfast & lunch provided
Panel discussion participants
Stem, Inc.
Sunverge
CODA
Tesla
Green Charge Networks
About the moderator
Janice Lin, cofounder and managing partner of Strategen Consulting, LLC will lead the discussion. She is executive director of the California Energy Storage Alliance, chair of the Global Energy Storage Alliance Executive Committee and chairperson of Energy Storage North America.
Have a question?
If you have a question that you'd like to ask the panelists or moderator in advance of the workshop, please email sgip@energycenter.org or join the conversation on Twitter at #Storage2014.
Event host
Presented by the nonprofit Center for Sustainable Energy, program administrators of the Self-Generation Incentive Program (SGIP) in the SDG&E service territory. Through SGIP, the center provides substantial rebates for clean energy technologies including advanced energy storage.
November 20, 2014 8:00 AM through 1:30 PM
4760 Clairemont Mesa Blvd




SDG&E Energy Innovation Center




San Diego

,

CA

92117




United States